Only Flash/HTML 5 tests under Training use Java.













___________

Typical feedback from Federal/state and local law enforcement, national intelligence agency and corporate investigations:

"the best course I've ever taken"
"the instructor is clearly an authority"
"excellent course ... very impressed"

"uniquely worth the money"
"excellent instructor, money well spent"

"looked forward to each class"

"sorry to see the course end"
"exceeded my high expectations"
"very realistic & comprehensive"
CompuForensics for Computer Forensics

Computer forensics, also known as computer forensic science, has more recently also come to be known as digital forensics and cyber forensics. Regardless of the name, computer forensics involves data recovery employing a legal audit trail in support of criminal and civil investigation and/or litigation. Computer forensics has also been employed for non-court purposes such as personnel actions in addition to expert confirmation of data destruction in compliance with federal privacy legislation; with regard to the latter, who is better trained than a computer forensics examiner to ensure that data cannot be recovered.
Completion of both two 6-week live online Computer Forensics Examiner courses provide computer professionals with the training needed to begin performing computer forensics on Windows and Mac computers. While tablets, smart phones and larger systems are addressed, the emphasis is on traditional microcomputers. Our university training meets or exceeds all known state licensing training requirements. CompuForensics offers government and private sectors a highly cost effective approach to upgrading the technical skills of their computer forensics examiner, management and support personnel.
Live on-line training is modeled after that provided to federal law enforcement and is taught by a former supervisory federal agent and national program manager for computer forensics. Live on-line evening classes afford students the flexibility of distance learning (VOIP; US and Canadian students can also participate via phone when necessary) without the limited instructor access common in correspondence courses. Computer Forensics Examiner courses, which include on-line access to open source and trial-ware software in addition to a bootable write blocking computer forensics CDROM, employs Windows and Linux manual applications to safely and more efficiently analyze Windows and Mac systems. Prior Linux experience is not required. The included student packet includes the CompuForensics CDROM, DEFT 8.1 Forensics DVD, exercise Flash drive as well as evidence bag and tape samples.

Basic Forensics Examiner (5 CEUs) - $499
Workforce Investment Act Eligible Training
Veterans (GI Bill) Eligible Training
Monday through Thursday
Evening Class: 6:30 p.m. - 8:30 p.m. Central
Fall 2016: Sep. 12 - Oct 26, 2016 (Columbus Day off)
Winter 2017: Jan. 23 - Mar. 8, 2016 (GW's Birth Day off)
The 50-hour Basic course is intended for those new to computer forensics, but capable of loading and operating Windows. This introductory course provides an inexpensive vehicle to not only prepare for more advanced and challenging technical training, but also to better assess your aptitude for an increasingly competitive and demanding computer forensics career.
Adv. Forensics Examiner (5 CEUs) - $599
Workforce Investment Act Eligible Training
Veterans (GI Bill) Eligible Training
Prerequisite: Basic Forensics course or instructor approval
Monday through Thursday
Evening Class: 6:30 p.m. - 8:30 p.m. Central
Fall 2016: Oct. 31 - Dec 14, 2016 (Thanksgiving Day off)
Spring 2017: Apr. 3 - May 16, 2016 (no holidays)
Completion of the Advanced university certification course provides the technical training necessary to begin doing computer forensics. Unlike lesser courses teaching use of a single largely automated forensics program, students learn to understand and effectively use manual and discrete Windows and Linux utilities to expertly analyze computers running Windows and Mac OSX. A week long forensics criminal case exercise tests your comprehension. The last week prepares you to defend your findings in court based upon an understanding of legal and procedural precedents as well as validated expert testimony techniques.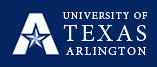 University of Texas
Arlington, TX

Shawn Huff
866-906-9190
Attend video lectures
via your phone or tablet.
Laboratories require a
Windows PC or laptop.

September 2016 Basic Reg.
October 2016 Adv. Reg.
Jan 2017 Basic Reg.
April 2017 Adv. Reg.

___________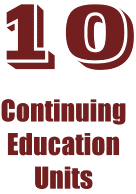 ___________

TV and news media coverage in recent years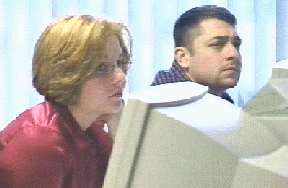 ___________

Skype or GoToMeeting Augmented by Flash video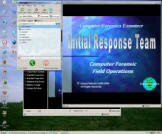 ___________

Course Syllabus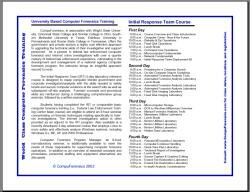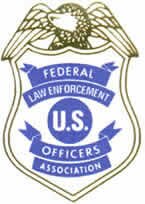 Member & Retired Federal Agent
CompuForensics was a licensed business in Tennessee from late 1998 through mid-2011. During that period, CompuForensics trained hundreds of examiners, including federal and state law enforcement agencies.

Presently, instruction is only provided through regionally accredited universities. Traditional regionally accredited universities and colleges are sometimes confused with "for profit" and so-called nationally accredited universities and colleges. The latter do not meet traditional accreditation standards and are not comparable to traditional institutions. For more information, see major media investigative reports on "for profit" schools by selecting buttons labeled FAQ PC and then Learning Center.

Previously restricted to law enforcement and corporate security, computer forensics training is now available to the general law abiding public through universities and colleges.